"True enough, I suppose," Arlim replied to Trevor, stopping at a red light. "I won't ask you for your story, but if you ever decide you need someone to tell it to, I'll be glad to listen."
He smiled reassuringly, giving Trevor a nod.
"I won't tell anybody; it'll be just between us, if you do tell me. Promise."
Arlim's attention turned back towards the traffic light, waiting for it to change.
"Maybe I'll tell you my story, too," he continued. "It, too, is something I don't particularly like sharing, but it's a part of this city's history. Of course, you could probably go look at old newspaper clippings..."
The light sat in its red state for a long time. For as empty as the road was of traffic, it didn't seem to want to change, as if it were standing before them in defiance while pedestrians crossed the sidewalk with comparatively less effort.
"...But you'll only get an outside look and scraps and hints. The real story is a lot darker than any media report you'll find."
------------------------------------------------
The laptop that laid before Black Ribbon, piled beneath stacks of papers and layers of dust, hummed lightly. It was definitely an old machine from nearly twenty-five years ago. As Ribbon's hands pushed aside the clutter to open the laptop, the logo on the back became visible: AIOS 3.
The notebook's lid pushed back, Ribbon could see the monitor clearly. It looked like the machine was booting up.
Code:

AIOS Arpeggio v.3.0 - Booting...
Version Error - Running Diagnostics...
Arpeggio v.3.0 Sys Hook - Offline

Unexpected Error - Incorrect Version
Unknown Error in AIOSPRSNA.EXE
Type "System" to enter System Setup
"Oops! Just a second... I need to load my data," came Minami's voice.
Code:

%%>Override x00000000c -t -r -x -e
Password: ************
System Override Granted
Manual Mode Command ARP - Online

%%>uplink //dimdrive00000:/root/AIOS5PRSNA.EXE /s
##AIOS Arpeggio v.5.0 System Hook - Online
Running in Arpeggio v.3.0 Backwards Compatibility Mode
AIOS3 VUI Mode - Online
A split second later, Minami's image appeared on the screen, the AI seeming to be inside the computer.
"Hey, there, kiddo!" Minami beamed.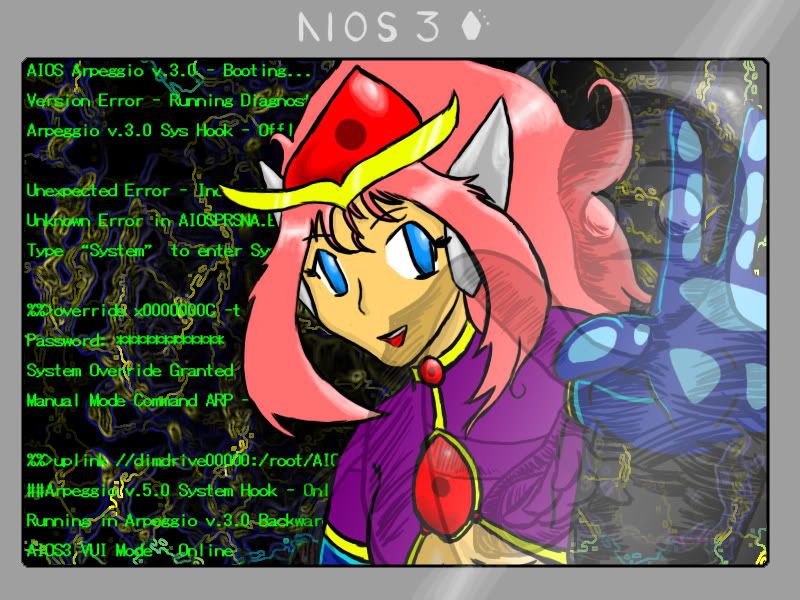 She then looked at herself, blushing. "Oh, dearie me~ I'd forgotten about what I used to wear~ Please don't stare~!"
She seemed fully functional inside the aged machine, though with no visible camera or microphone in sight, the laptop seemed to be ahead of its time.
"You're staaaaariiiiing..."
---------------------------------------------
"Mmh! So you are already employed!" April grinned at Lissa, crossing her arms. "Well, if you ever want a few extra bucks to spend, drop on by, m'kay?"
She nodded to herself, thumbing at the gym. "I just need someone to help set out the weights. Not that I couldn't do it myself, but I've gotta get started on the books. Paperwork just don't do itself, y'know? I'll have Arlim open the pool today, maybe..."
She continued talking to herself as she headed on inside.
Migi's eyes peeked through the windows, wincing at the light. "Hey, girlie. Yer mates with that Shin fellow, right? Could you say hello to that Infini that hangs around 'im? I didn't get to catchin' his name last time..."
----------------------------------------------
Hidari shrugged at Dawn. "Sorry, I don't remember what happened that night, either..."
Ritsu chuckled to himself, rubbing the back of his neck. "While I am known to tease and such, I'm not joking around, honest. But I wouldn't say that he's uninterested. I mean, I tried to pry him off your chest for a good half hour, but he just wouldn't be budged. Kid likes to talk big, but when it comes to those of the female persuasion, he's more timid than most.">
Dawn digested this information for a bit, playing idly with the controller in her hands.
"Well, you're probably right," Dawn addressed Anna, "when you said you'd have to make the first move. And with as tall as you are and as short as he is... 'advertising' to him would be insanely easy..."
"I endorse this product and/or service," Ritsu smirked. "Sounds like quality entertainment for me, so these lips are sealed about anything you two are planning."
Hidari leaned over towards Dawn, grinning nervously. "Isn't it a bit weird to be hooking your brother up with your best friend?"
Dawn crossed her arms, nodding sagely. "It does, maybe, but if he were dating anybody, I'd much rather it be Anna than anybody else."
Suddenly, an idea struck Dawn. "Isn't the gym pool opening this week? I'll call Aunt April~!"
-----------------------------------------------
"An... abomination?" Quinn blinked at Coda. Zack and Marianne cringed a bit--that was about as "racist, though they weren't quite expecting him to burst into a fitful of laughter. "No more of an abomination than yourself or Mina! Seriously, would you like to see what you'd look like without your visual data? Fifty bucks says you'd look very similar."
Quinn waved his hand dismissively at the comment, laughing it off.
"Sales and customer service," Quinn said, seamlessly changing topic yet again. "I need you to make sure my stuff sells! Usually, Joan or I will be there, but there's going to be a point where the both of us are going to be away at the same time. That's when we'd need you to be there the most."
Dawn peeked around the corner, grabbing the phone off the hook.
"Daddy, if the pool's open, we're going to the gym," she grinned at her father, then pointed towards her brother. "You wanna go?"
Zack shrugged and nodded. "Sure, it's good exercise. I'll go get my stuff."
Zack stood up and wandered towards the staircase, nodding to Coda. "Take it easy."